About Fair Trade Barrie
Fair Trade Barrie was created in 2005 by Bob Jowett and Bruce Morton. Both have worked as volunteers promoting Fair Trade awareness for several years; Bob in the UK and Canada and Bruce with Oxfam and the Toronto Fair Trade Working Group.
Bob Jowett can be reached at 1-705-792-4430, email: cr_jowett@rogers.com.
Bruce Morton can be reached at 1-705- 722-0141, email bmorton@icpcanada.com.
Barrie Fair Trade Working Group received the YMCA 2009 Peace Medallion Award
The BFTWG was very fortunate to receive the YMCA 2009 Peace Medallion Award November 2009. The award was given in recognition of the work done by the BFTWG to promote an awareness of Fair Trade in the Barrie area.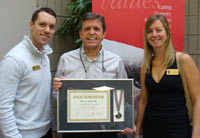 The award was presented Tuesday Nov. 24th 2009, at the Barrie YMCA by General Manager Michael O'Callaghan and assisted by Cat O'Conner and Stephanie Carstairs.