2015 Photo Gallery (click on any photo to enlarge)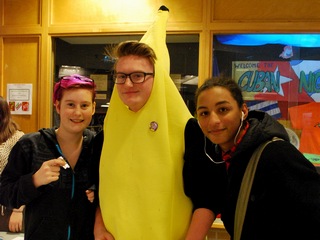 Dec. 11th, Innisdale Secondary School.
Students launched a Fair Trade School campaign in the school foyer. Cocoa Camino Fair Trade chocolate was donated by La Siembra for the event.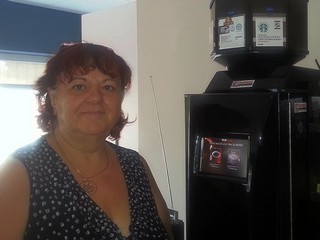 Sept. 13th, Fair Trade Barrie provided coffee for Councillor Rose Romita's Ward 2 BBQ.
Councillor Rose in the city hall lunchroom shows their available Fair Trade coffee.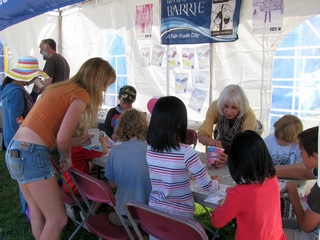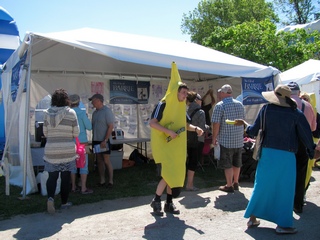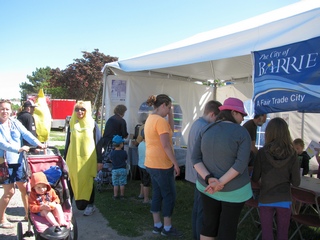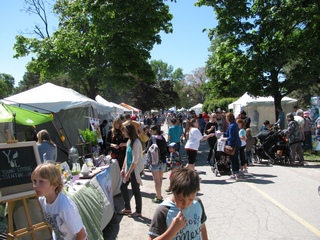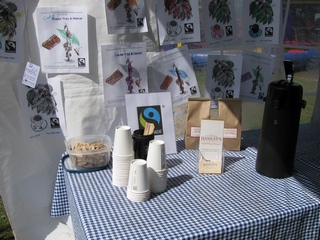 June 6th, Celebrate Barrie.
Great day on the waterfront. Busy all day with colouring exercises and handing out bananas, coffee and Cadbury Dairy Milk bars. Special thanks to volunteers Ivy McKee, Kris Rove and Cody. Thank you to sponsors Equifruit Inc., Cadbury and Hamley's Tea and Coffee Co.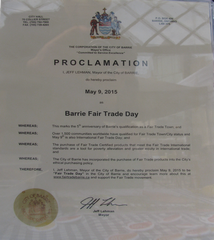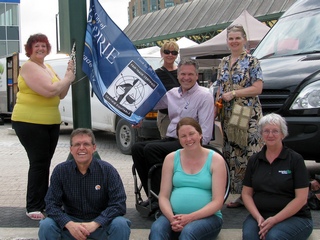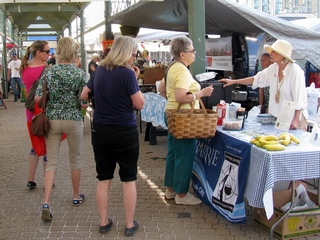 May 9th, International Fair Trade Day at the City Hall Farmer's Market.
A Proclamation was signed by Mayor Jeff Lehman followed by Councillor Rose Romita raising the Fair Trade Town flag at 12:15 PM. Free bananas and coffee for everyone was sponsored by Equifruit Inc. and Hamley's Tea and Coffee Co.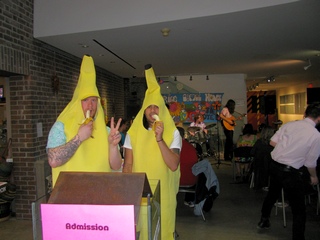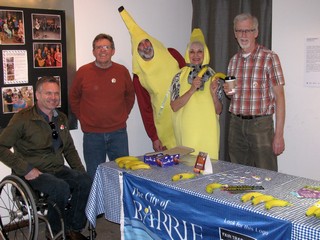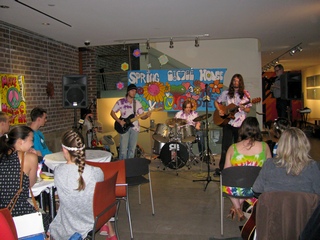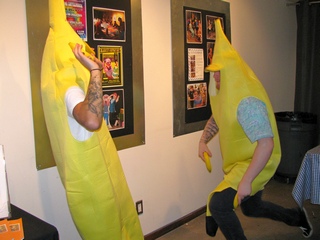 April 17th, MacLaren Art Centre Coffee House.
The Barrie Youth Advisory Council held their annual Spring Coffee House with many talented young musicians entertaining throughout the evening. Fair Trade Barrie, some in banana costumes, supplied Cadbury Dairy Milk chocolate and EquiFruit bananas.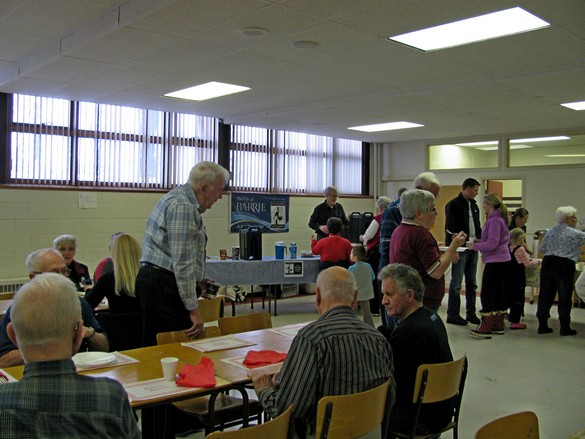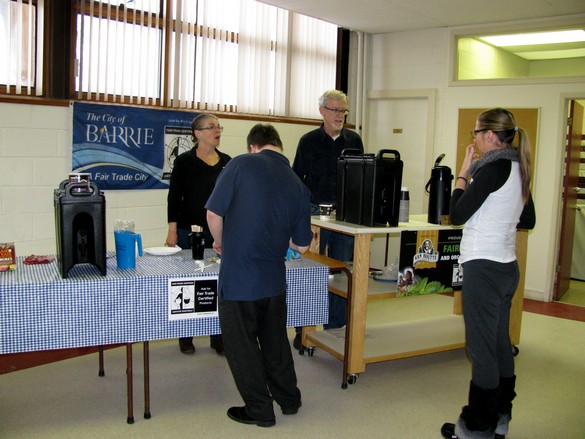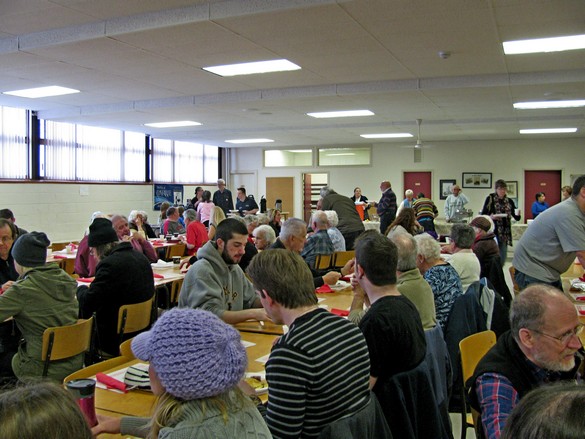 February 7th, Winterfest Pancake Breakfast at Central United Church.
A good turnout again this year, and a great opportunity to grow the Fair Trade movement in Barrie. Fair Trade coffee donated by Van Houtte and served by Fair Trade Barrie.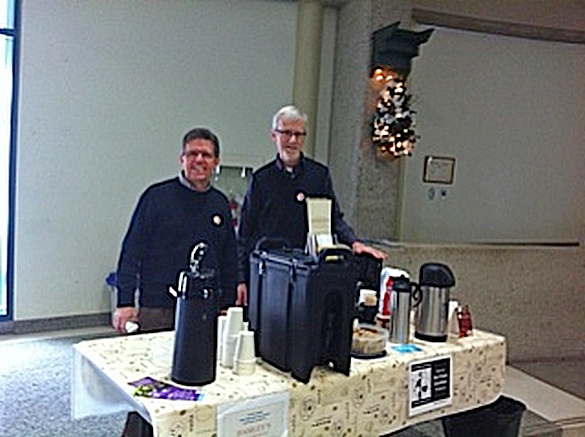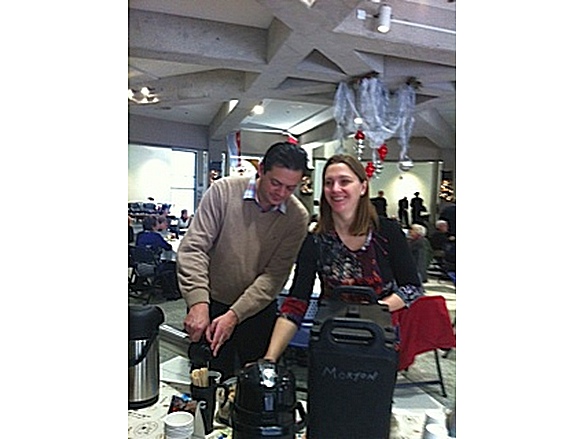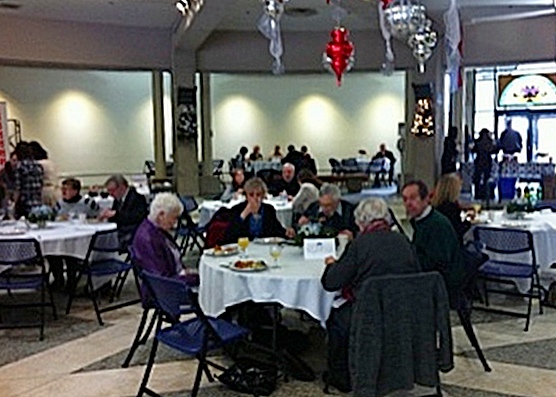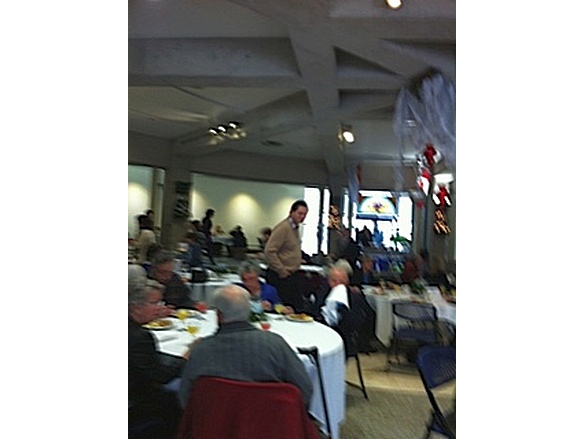 January 1st, Mayor's Levee and Brunch at City Hall. Local restaurants served up their best dishes while Mayor Jeff Lehman greeted and chatted with residents. The fund raiser also featured live blues and jazz by Robin Munro and his band. Fair Trade Barrie served coffee courtesy of Hamley's Tea & Coffee Co.