2012 Photo Gallery
Oct. 26th. Halloween Coffee House at the MacLaren Art Centre, The Youth Advisory Council teamed up with the MacLaren Art Centre to organize a night of entertainment, complete with a costume contest and interactive art activities. Cadbury sponsored the event with lots of Halloween packs of Fair Trade Dairy Milk bars.
Oct. 17th. MacLaren Art Centre, The Stephen Lewis Grandmothers hosted an evening with Paola Gianturco, celebrated author of "Grandmother Power, A Global Phenomenon". Over 200 tickets were sold in advance and many more at the door. The event raised funds for the Stephen Lewis Foundation. Fair Trade Barrie was on hand with lots of coffee to assist with the fund raising.
June 2nd Fair Trade Barrie participates in the City's annual Celebrate Barrie event on the waterfront. Colouring contest sponsored by La Siembra, with Cocoa Camino chocolate bars. 200 bananas, 300 cups of coffee and 400 chocolate bars given away to visitors.
April 30th, City Hall, Barrie Mayor Jeff Lehmann assists Fair Trade Barrie with the raising of the Fair Trade Town flag to proclaim the beginning of National Fair Trade Fortnight May 1st to May 15th.
April. 22nd, St. Joan of Arc High School hosted their first annual indoor rowing competition at the Barrie Rowing Club. Coach Sandra Junkin and her team use the event to promote Fair Trade coffee.
April 11th, the Stephen Lewis Grandmothers provide snacks for the Valdy concert at the Barrie South Shore Centre. Fair Trade Barrie is on hand with coffee and tea. Concerts are organized by the Barrie Folk Society.
March 31st, Huronia Symphony Concert, Emmanuel Baptist Church, Barrie. Fair Trade coffee courtesy of Hamley's Tea & Coffee Co.
March 25th, YMCA Bike-A-Thon. Participants raise funds for the Strong Kids campaign which helps needy kids use the "Y" facilities free of charge. Fair Trade coffee served by Nancy and John Knapp.
Feb. 12th, Huronia Symphony Concert, Collier Street United Church. Fair Trade coffee courtesy of Hamley's Tea & Coffee Co. Served by Ingi Gould, Peter Sullivan and Bruce Morton of the BFTWG.
Feb. 4th, City of Barrie Winterfest Pancake Breakfast at Central United Church. Coffee supplied by the BFTWG, and served by Paula Drouillard, Peter Sullivan and Bruce Morton.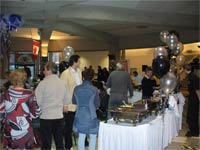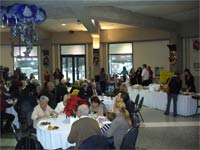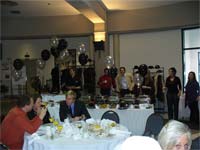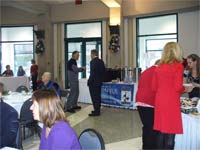 Jan. 1st, 2012, Barrie City Hall. Mayor Jeff Lehman presented his inaugural New Year's Day Brunch & Levee, in support of the United Way of Greater Simcoe County. Chefs from some of Barrie's finest restaurants lent their culinary skills to this special affair. Nancy Knapp, Ingi Gould, Sandra Junkin and Bruce Morton of the BFTWG served Fair Trade coffee for all. The event was sponsored by Hamley's Tea and Coffee Co.